Understanding the Bank Identification Number (BIN): A Vital Element for Starting a Credit Card Program
One element of the modern payments ecosystem that often flies under the radar is the Bank Identification Number (BIN). Typically, the first six digits of a credit, debit, or prepaid card number (as of April 2022, BINs can be eight digits long), the BIN serves as the unique identifier of a payment card's issuing bank or financial institution. The first digit of the BIN identifies the card network the card is part of, while the remaining numbers of the card include the account number and a validator number.
In addition to being critical for processing payment card transactions, BINs are also used for security purposes, such as identifying stolen cards and helping manage identity theft.
Requirements for Obtaining a BIN
Because the BIN is part of the card number and is required for communicating with a card network (Visa, Mastercard, American Express, etc), a bank cannot issue credit cards. The card network provides the BIN, and the process of obtaining one is more complex than you might expect. This is because your network program must be built before the card network will provide a BIN.
Each card network has its own program requirements that range from technical specifications to compliance and customer service standards. These include ensuring compliance with privacy regulations for cardholder data, ALM/KYC procedures, processes for dispute management, and tokenization for digital wallet support. Due to the multitude of requirements, obtaining a bank identification number is a project that could take months.
As a result, many banks choose to work with a card program partner instead of working on their own to obtain a BIN and build their network program. The program partner's experience means they know what the card networks are looking for, and the bank will be able to get their credit offering to market sooner. Here is one program partner's view of the work that will need to be done to get a BIN and launch a card program.
Other Revenue Opportunities from a BIN
In addition to being able to manage your own credit card program, once your bank has a BIN, it will be able to serve as a "sponsor bank" for third-party companies, such as fintech startups that want to offer financial products that require a BIN. This strategy, also known as Rent-A-Bin (RAB), can open up another source of revenue that is not dependent on interest rates or deposit volumes. However, banks have to be careful when choosing who they share their BIN with and account for any potential exposure as a result of their partnership as part of their risk management practices to avoid running into trouble.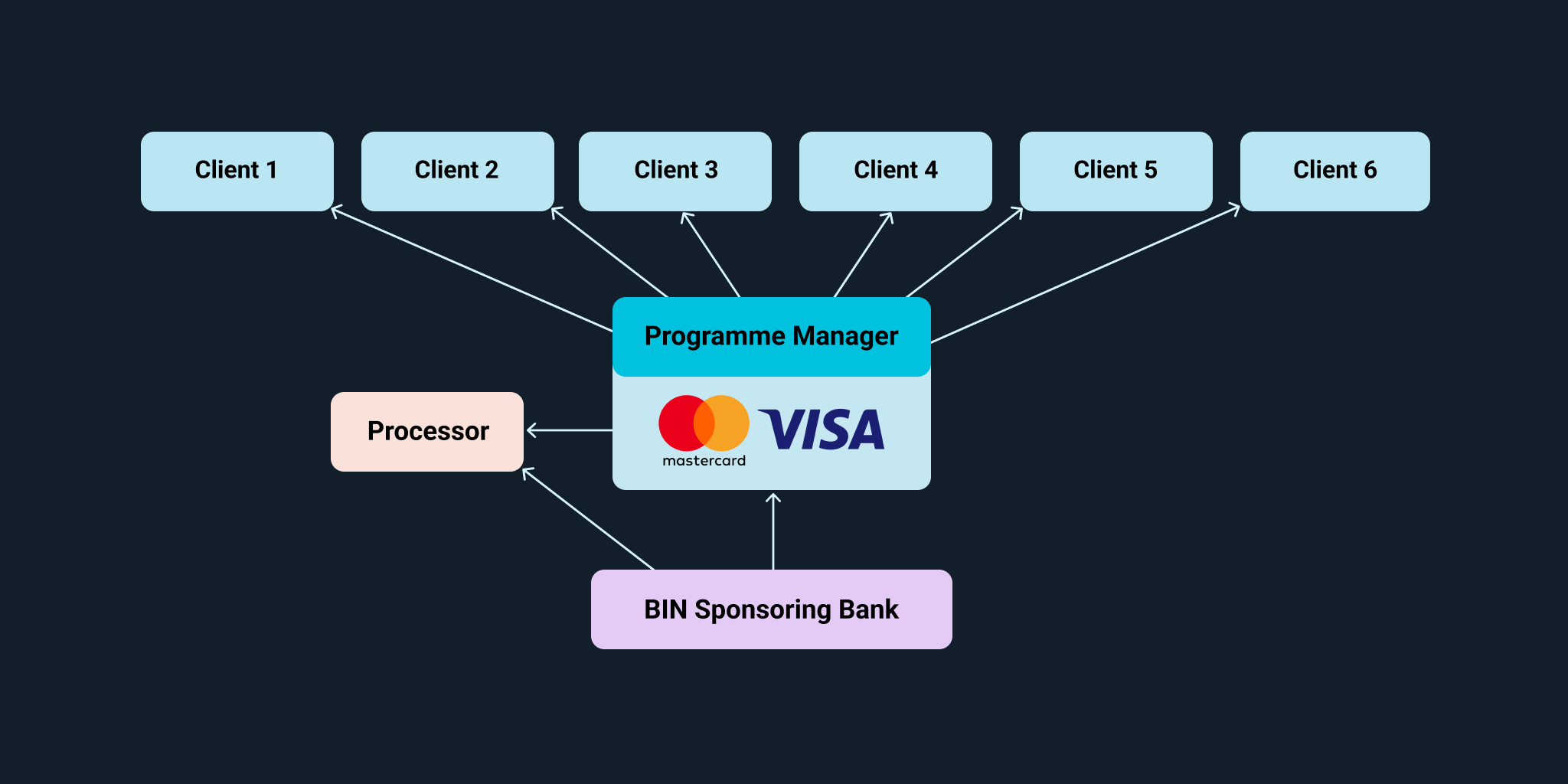 Image inspiration: Polymath
Credit Card, Faster
The backend work required to build a card network program and get a BIN is challenging enough. Your bank doesn't have to try to build the customer-facing experience simultaneously. With Torpago Powered By, you can provide a proven credit card and spend management platform for your business clients that makes it easy for them to issue new cards, set spending policies, process reimbursement requests, and more.
Built with hundreds of integrations, including support for major ERP, payroll, and accounting applications, Torpago also makes it easy for your customers to connect their credit cards to their financial infrastructure. We'll even help you build your backend and obtain your BIN so that you can launch your business credit card program faster. Request a demo today to learn more about Powered By and how Torpago can help your bank upgrade your business credit offerings!