Your Torpago Subscription Now Includes Assurant® Device Care
In today's fast-moving digital world, mobile devices are indispensable. According to Statista, the average American spends 4.5 hours per day on their phone on "non-voice activities" – texting, reading email, scrolling social media, playing games, etc – anything that doesn't count as "making a phone call."
For professional road warriors that need to always be reachable via voice, message, or email, having a fully functional mobile device is critical. 43% of emails were opened on a mobile device in 2018, a figure that has likely surpassed 50% since then, and for 58% of people with a mobile device, email is the first thing they check in the morning.
This importance of mobile devices to professional life means having a broken or malfunctioning device is a serious problem, particularly on the road where it may be hard to find a repair vendor you can trust.
That's why we've partnered with Assurant® to add Device Care as a benefit to Torpago customers. With Device Care, our customers get access to a nationwide repair service network with a flat $39 cost (plus applicable local taxes) for each qualifying repair – and most repairs will be completed same-day. There is no cost to sign up for a Device Care plan, and you'll only pay for the repairs you need.
What does Device Care cover?
Device Care covers repairs of four critical components for your device: front screen, battery, physical buttons, and the charging port.
Requesting a repair is easy – just submit a request through your account and you'll receive instructions on how to schedule a repair once it's approved. With Device Care, you won't have to scroll through Google maps and spend hours brows reviews to find a reputable repair outlet while in an unfamiliar city. And should the service network be unable to fix your device, you'll receive $129 for additional repairs or towards a replacement device.
Is there fine print?
There are limitations to how often you can request a repair, so do continue to take good care of your mobile device. You can only request two repairs every 12 months – and your battery health has to be below 75% to be eligible for a battery replacement. Additionally, only the device you have registered to your account is covered.
Please visit our Assurant® Device Care page to get full program details.
How to Get Started
If you're a Torpago customer, Assurant® Device Care is included at no cost! You'll only pay for the repairs that you need. You can start with Device Care today by logging into your account and visiting the sign up page. You can also look for the "Sign up for Assurant® Device Plan'' module on your user web application dashboard.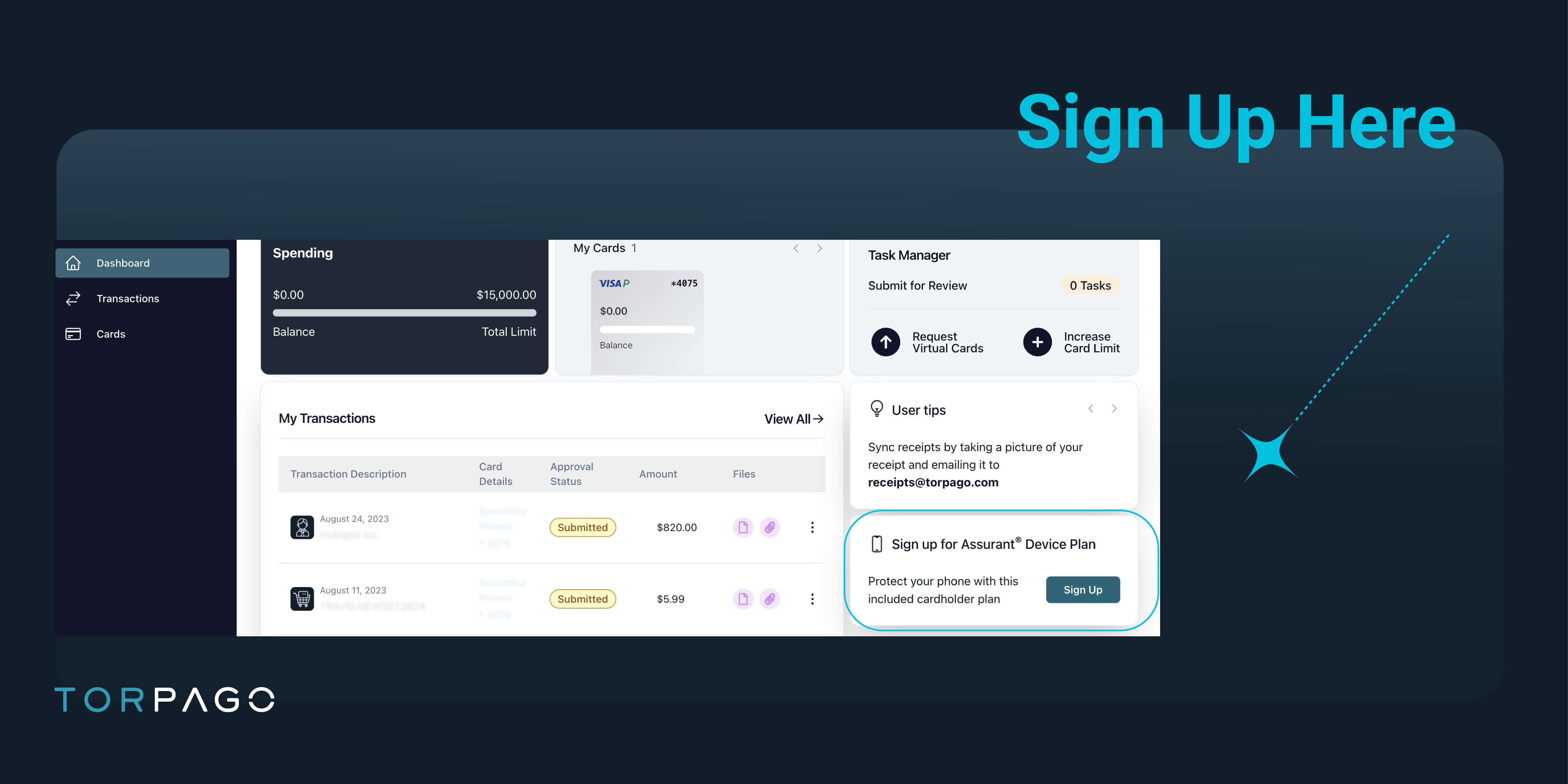 Not yet a Torpago customer? Click here to learn more about our business credit card platform, which includes a rewards credit card, modern and fully customizable spend management tools, reimbursement processing, and more.