Torpago Partners With Keep A Breast Foundation to Make Helping Women Easier
In a move that underscores our commitment to meaningful collaboration, Torpago is pleased to announce a new partnership with Keep A Breast (KAB) Foundation, a nonprofit dedicated to breast cancer prevention and helping women affected by breast cancer. Torpago will be helping the foundation improve transparency in its accounting and making it easier for them to disburse funds to grantees by providing KAB with the ability to send funds digitally or in the form of a gift card.
"Imagine the complexity of manually issuing hundreds of checks! It's not practical," said KAB co-founder Shaney jo Darden. "By offering our grantees the option to receive funds digitally or on a physical gift card, we're simplifying the process. Our grants aim to make life a bit easier, and that includes providing an accessible way for recipients to access their funds."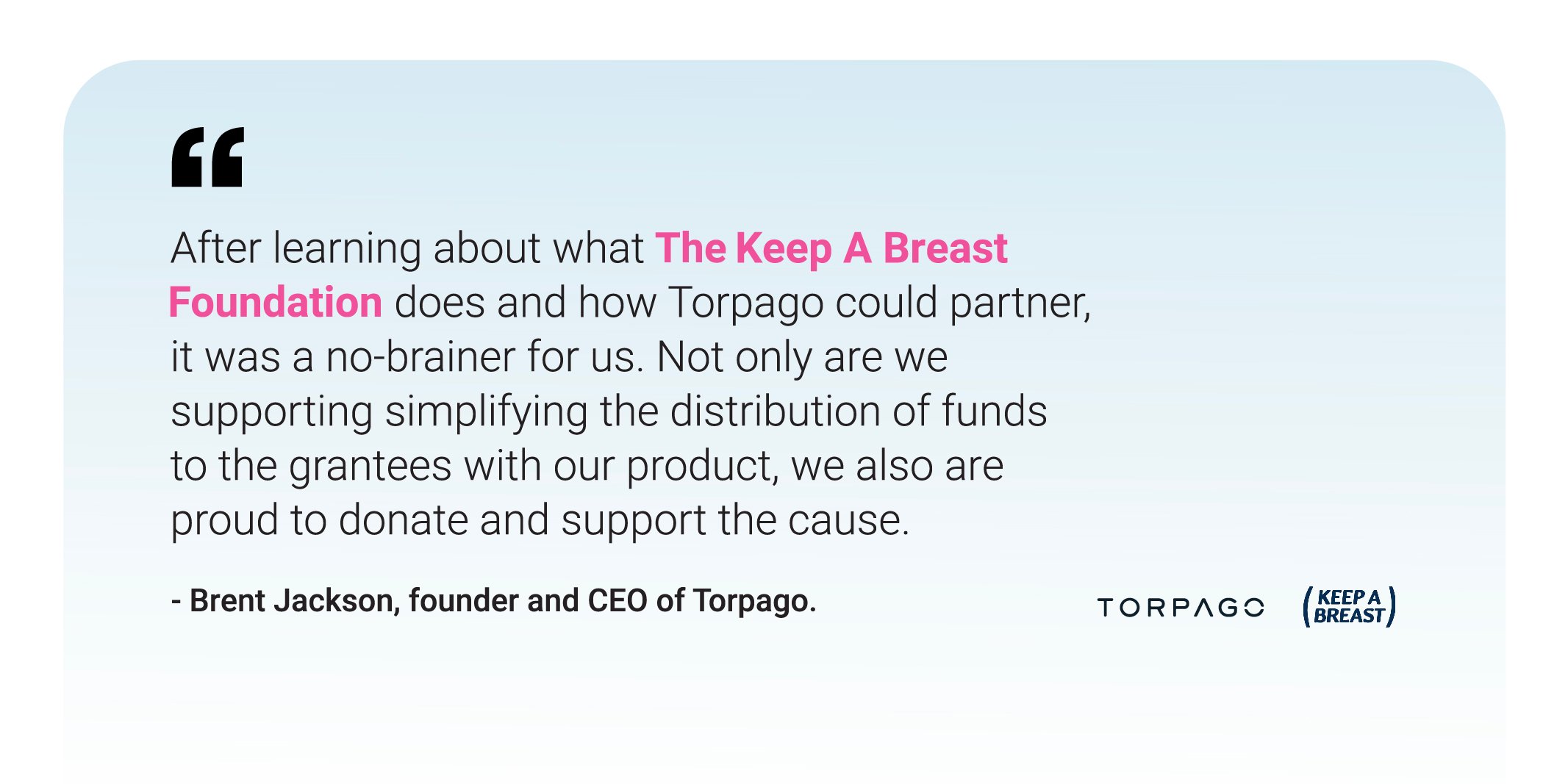 "After learning about what The Keep A Breast Foundation does and how Torpago could partner, it was a no-brainer for us. Not only are we supporting simplifying the distribution of funds to the grantees with our product, we also are proud to donate and support the cause," said Brent Jackson, founder and CEO of Torpago.
Growth Through Strategic Partnerships
Initially organized in 2000 as a one-time event to support a friend, Keep A Breast has grown into a global nonprofit with affiliates in multiple countries. "Our global footprint has always been a part of our identity," Darden emphasized. "KAB boasts a diverse, international team, and from the beginning, we've held events and exhibitions in numerous countries."
Strategic partnerships have been a major part of KAB's success, particularly their long-standing partnership with surfing-inspired lifestyle brand Roxy, which enabled the establishment of Keep A Breast Europe. "ROXY has been our steadfast partner since KAB's inception, and with their base in France, they provided invaluable support in terms of funding and resources for creating impactful exhibitions worldwide," said Darden. "Through the influence of their athletes, we've successfully spread breast health education to young women globally."
In addition to brand partnerships, KAB also works to create partnerships that include individual grants, collaborations, government grants, and more. "Some partnerships are grassroots initiatives, such as fundraising through yoga classes, car washes, and local music events," Darden explained. "What unites all our donors is their passion. Breast cancer impacts many lives, and it serves as a powerful catalyst for communities coming together for a shared cause."
Getting Involved with Keep A Breast
For those interested in contributing to Keep A Breast's work and making a positive impact, Darden offered practical guidance:
"The best way to get involved with Keep A Breast is to connect with us on social media and familiarize yourself with our mission! Follow us on Instagram at @keepabreast. We encourage you to download the KAB App, learn how to perform self-checks, and share this knowledge with at least 8 friends. With 1 in 8 women being diagnosed with breast cancer in their lifetime, you can potentially help save a friend's life by sharing this vital resource with them."